What does a junction box look like? Characteristics and types
13 Feb , 2023
A junction box is made of metal (aluminum, 304/316L stainless steel ), plastic derivatives, or composite materials. It is used as an accessory in electrical cable protection systems by providing mechanical protection and the possibility of inspection when needed. It also offers protection from external elements (water or dust, impact, shock, loss of electrical continuity, and more).
Visit the Euro 2000's junction boxes dedicated section to browse our line.
Main characteristics and reference standards
The reference standards for junction boxes are IEC/EN 60670-1, IEC/EN 60670-22, IEC 23-48, IEC 23-49, IEC 23-51, and more.
The main characteristics of junction boxes are:
Grounding
Junction boxes have special fastening points/metal parts for grounding, such as pre-assembled self-tapping screws or clamp joints. EURO 2000's plastic junction boxes from the Nylohm series stand out on the market since they are the only ones in plastic that can guarantee electrical continuity when connected to metal fittings (as shown in our Nylohm series patent).
Temperature resistance
This characteristic is directly tied to the material used to build the junction box.
Use Temperature: the usage temperature of the products is the one between the minimum operating temperature (Tmin) and the maximum operating temperature (Tmax). The junction box continuous use temperature (CUT) is the temperature range in which the properties of the materials – even for an extended period – do not change.
Mechanical Characteristics
The main mechanical characteristics of junction boxes are impact load (J) and compressive force (N). When testing the product for certification, different impact tests are performed based on the specifications to be tested. The first one involves applying a 1kg weight at room temperature to the junction box at a variable height, depending on the impact force to apply. The second, more demanding one, calls for reducing the temperature range (-5°C, -15°C, or -25°C) according to the product specifications – even for more than 2 hours – before performing the impact test.
The compression test is performed by applying a force of 500 N on the junction box for a specific time. This test calls for heating the junction box to a temperature of about 90°C for one hour and then allowing it to cool down to room temperature. The box is subject to various tests following the thermal steps described above.
IP Protection Rating
The IP rating is guaranteed by a product or system (such as an enclosure or junction box, cable glands, and conduit fittings) and ensures dust-proof or water-proof protection. The protection level is checked using standardized test methods. Insulating materials or sealing materials such as EPDM rubber and silicone rubber are usually used to achieve a better IP protection rating. Learn more about the IP Protection rating.
Junction box types
There are different types of junction boxes.
1. Junction Boxes
In most cases, simple junction boxes are used in industrial applications. They allow various types of fittings or cable glands of different sizes with different threaded entries. The recommended size of the hole in the junction box matches the outer diameter of the thread, plus a tolerance of 0.25 mm to allow for thread entry. To achieve the IP protection, flat gaskets (made of aluminum, vegetable fiber, or thermoplastic elastomer) are used for cylindrical threads (ISO metric 965-1, ISO GAS 228, and PG DIN 40430). They are tightened between the cable gland/fitting and the lock nut in the junction box.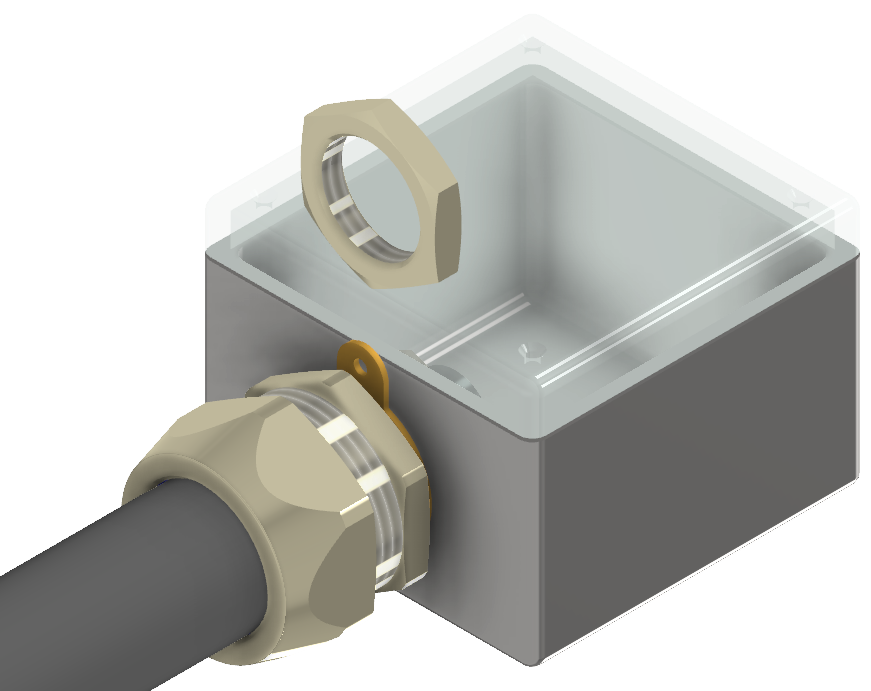 2. Junction boxes with threaded entries
In turn, they are split into:
Metal junction boxes with threaded entries
A pre-threaded junction box is rectangular and has a protruding threaded entry. To achieve the IP protection, flat gaskets are used for cylindrical threads. When using conical threads (ISO conical GAS – ISO 7/1, NPT ANSI/ASME B1.20.1), IP protection is ensured by the pressure seal on the thread without the need for the gasket. Browse all our metal junction boxes.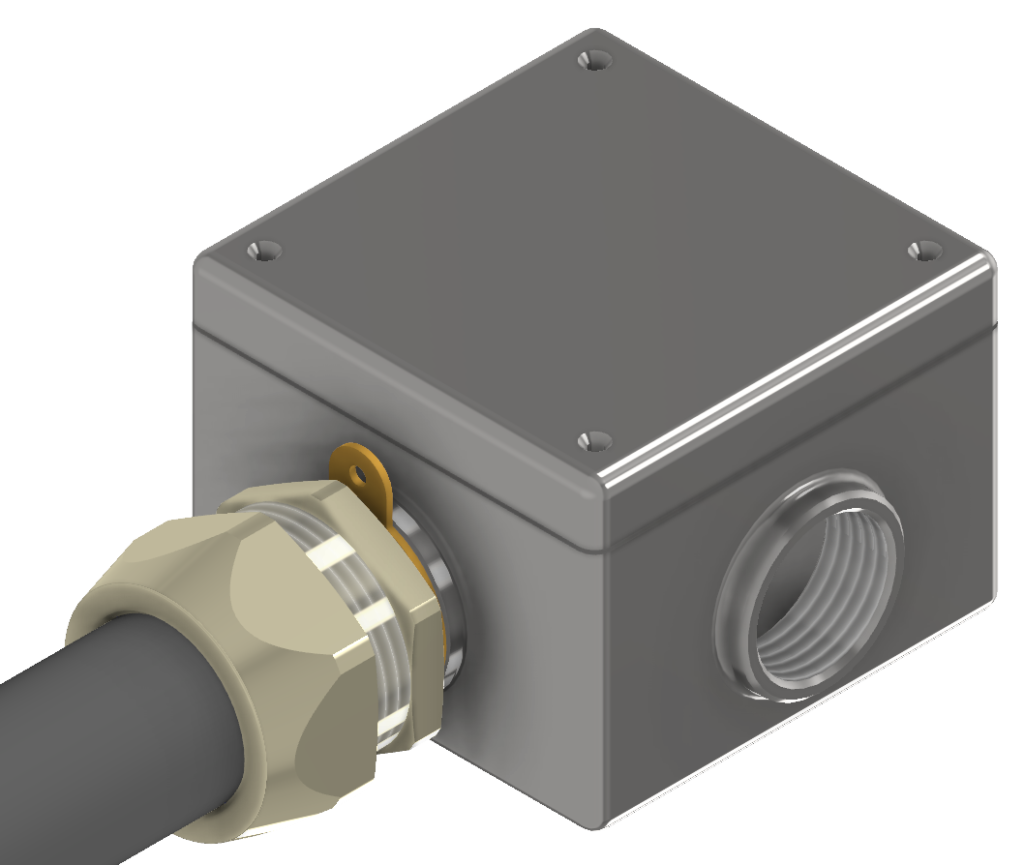 Plastic junction boxes with threaded entries
These junction boxes are in fiberglass-filled polyamide (PA66) in compliance with EN 61386-23 and self-extinguished according to UL94 standards. This type of junction box provides an IP67/IP68 protection rating since it is anti-vibration and cannot be opened. Moreover, it guarantees electrical continuity on the threaded entries when coupled with metal hardware, thanks to our patented design No. 102016000132538. The use temperature range is -50°C to +120°C. Electrical continuity measured is < 0.05 ohm/m. Browse all our nylon junction boxes.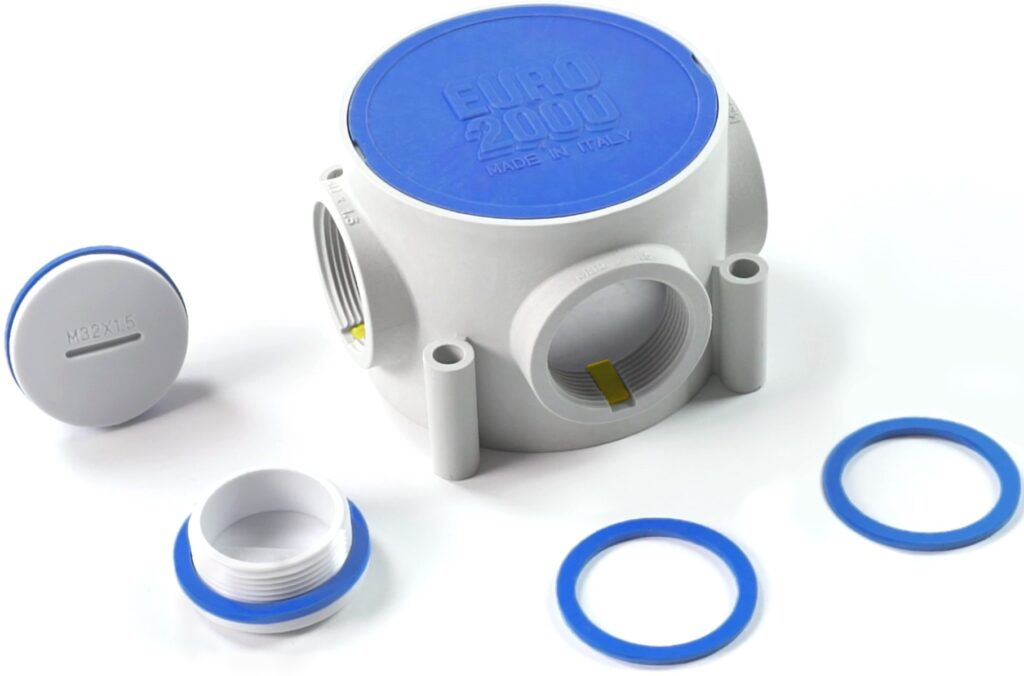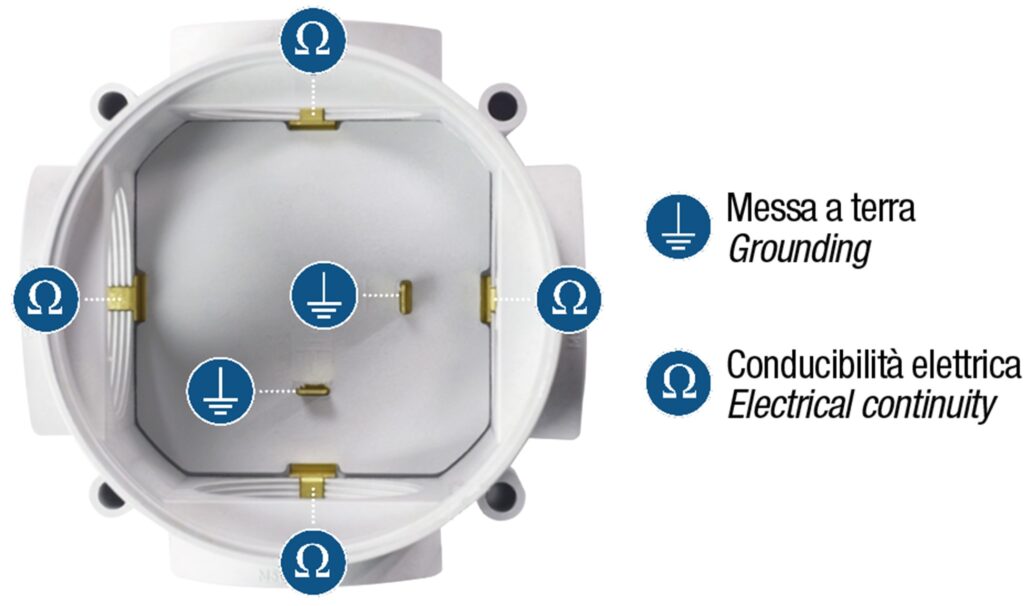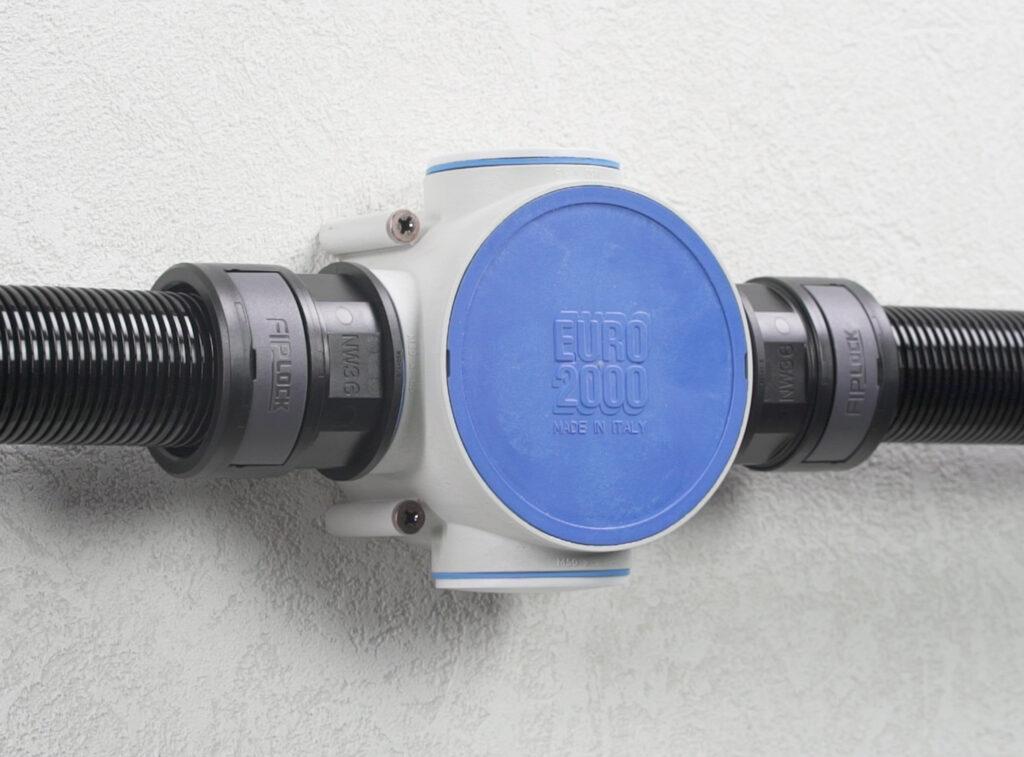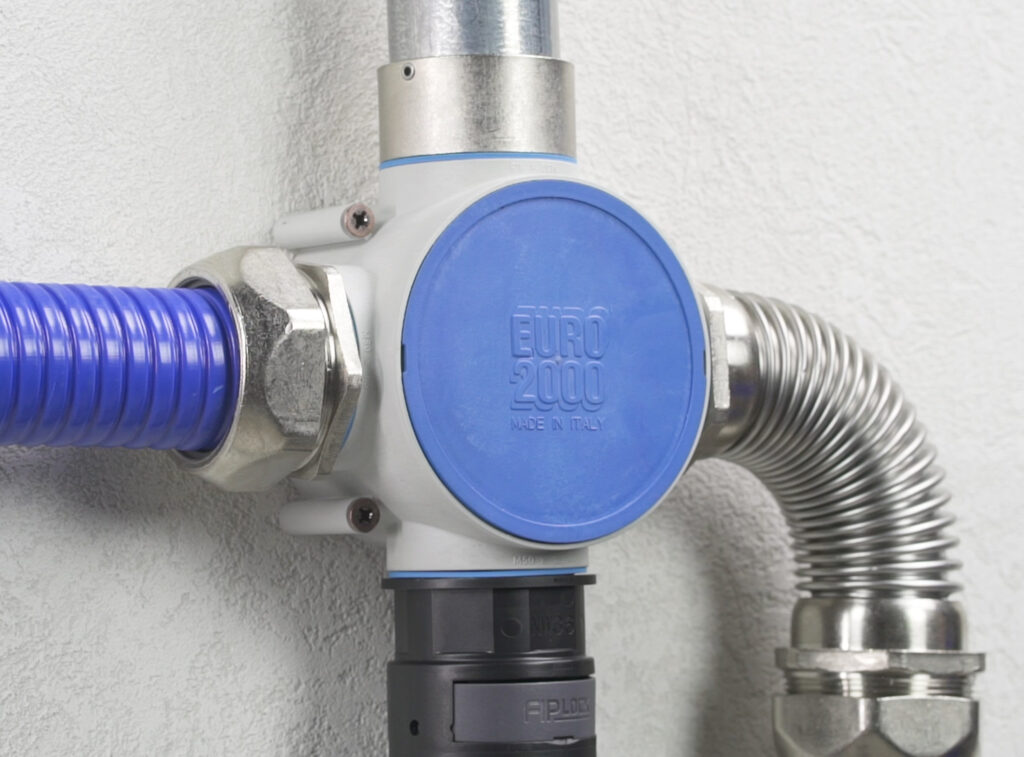 Download the document for more information on the types and characteristics of junction boxes. For more information, do not hesitate to contact us: our experts are at your complete disposal.